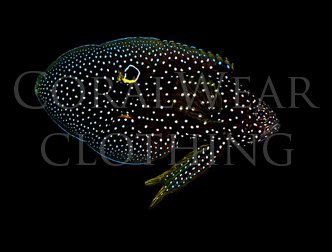 The Marine Betta Tee is designed to resemble the Marine Betta fish, also known as, the Comet. This shirt was hand crafted using a premium blend of polyester and cotton, providing a soft and comfortable feel. This pattern is product of a proprietary printing process that permanently dyes the fabric. Blend in with the style of the night just as the Comet does!

Long Cut.
65% polyester 35% cotton.
Informational species specific hang tag.
Proprietary dye process.
Free shipping on orders over $200 (within continental U.S).